News & Schedule of Events for World Dharma and Alan Clements
---

Details… ​Final Group Dec ​4. Resuming at a new location for a new ​​six week Monday night series​ starting Feb 19. TBA soon. ​
---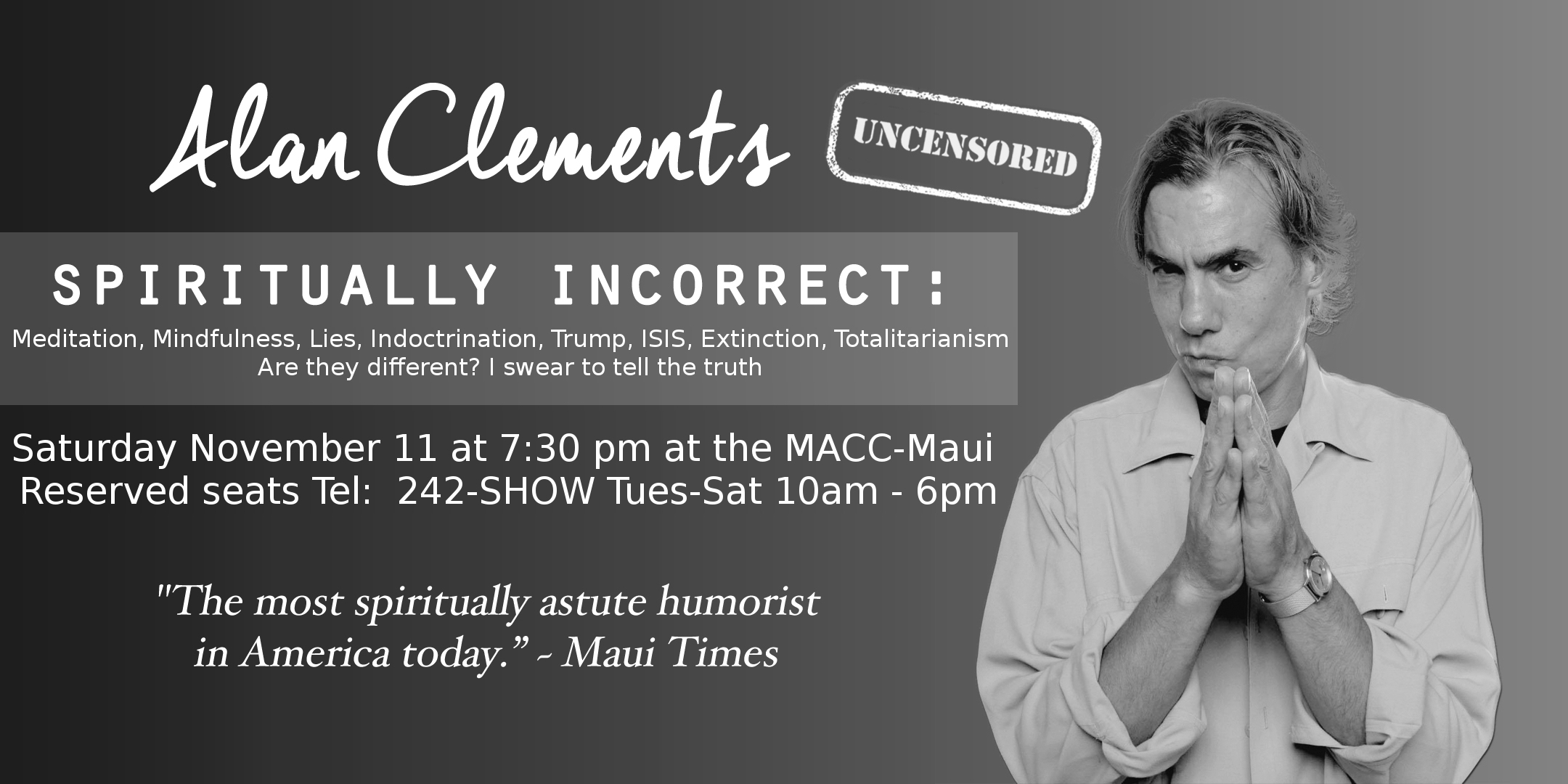 SATURDAY, NOVEMBER 11, 2017 – 7:30 PM ONE SHOW ONLY
Alan Clements Uncensored: Spiritually Incorrect Meditation, Mindfulness, Lies, Indoctrination, Trump, ISIS, Extinction, Totalitarianism Are They Different?
I Swear To Tell the Truth
McCoy Studio Theater Maui Arts & Cultural Center 1 Cameron Way, Kahului,
BUY TICKETS
ONLINE & FURTHER DETAILS
OR PHONE Box Office: 808-242-SHOW (7469)
---

December 17 Sunday ​10:00 am to 4:00 pm
A Day Long ​​ World Dharma Immersion Training Melbourne, VIC, Australia
Further details and registration.
---
Saturday March 24, 2018 – VANCOUVER, BC, CANADA
Registration is​ ​​open for​ ​our first day long​ ​non-residential
Meditation & Mindful Intelligence Training Vancouver​​
Saturday March 24 from 9 am to 7 pm Vancouver, BC, Canada
led by Alan Clements
Further details and online registration
---
MAY 2018
Wisdom of Mindfulness A Buddhist-Inspired, Insight Meditation,
World Dharma Retreat Australia 2018
with Alan Clements & Special Guests
Seven Day Mindfulness Training with Insight Meditation, Process-Oriented Buddhist Psychology & World Dharma – Finding Freedom In Every Circumstance that We Face
Monday May 28 – Sunday June 3, 2018
At Gymea Eco Retreat & Spa,
Uki, NSW (45 min from Byron Bay)
Daily Dharma Talks, Yoga Sessions, Silent & Guided Meditations, Creative Writing, Group discussions with Q&A, set in Deep Nature
Further details and online application…
---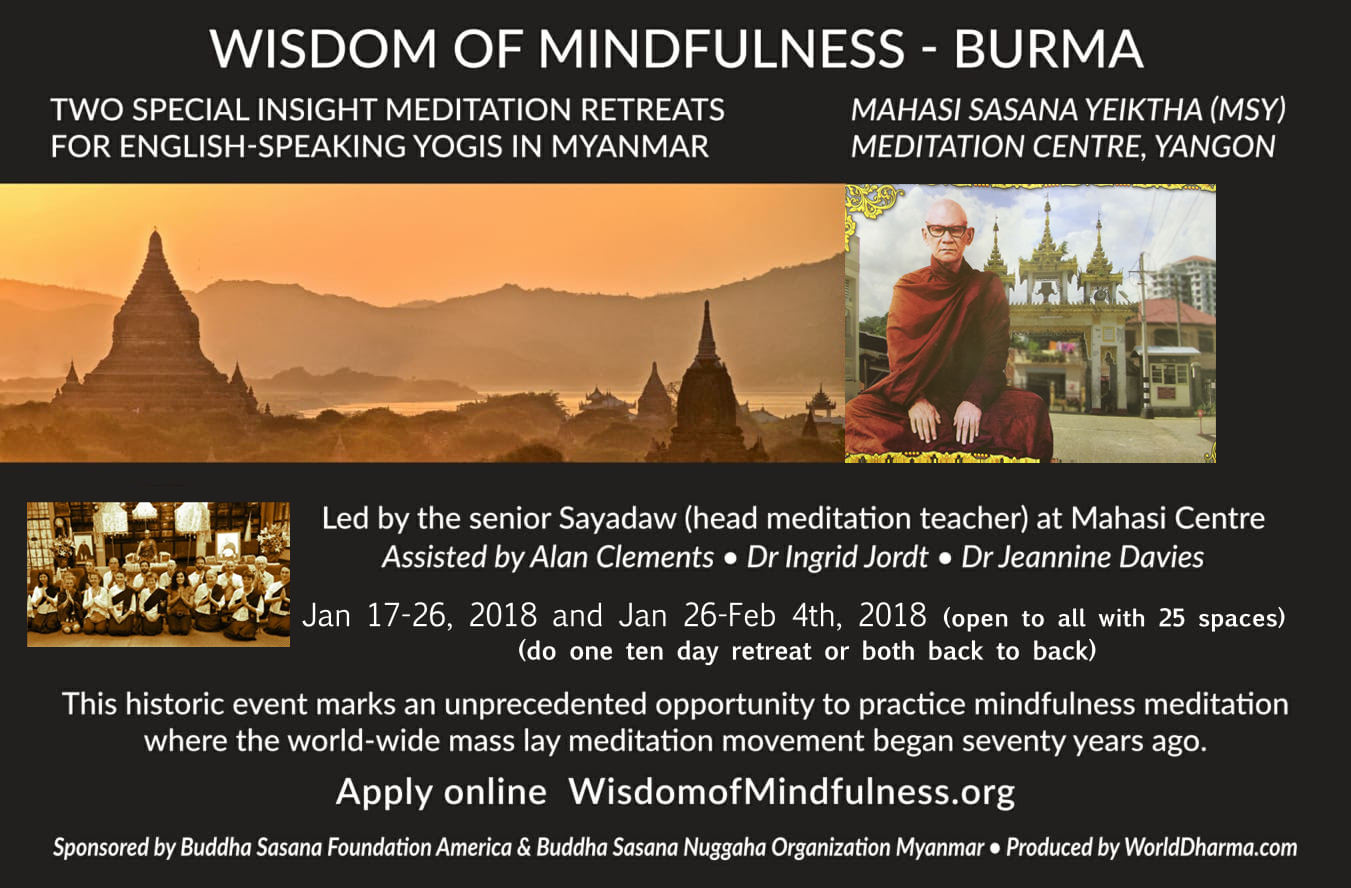 JANUARY & FEBRUARY 2018
Third Annual Wisdom of Mindfulness Retreats Insight Meditation in Myanmar for English Speaking Yogis Mahasi Sasana Yeiktha (MSY) Meditation Centre Yangon
This historic event marks an unprecedented opportunity for English speaking yogis to practice mindfulness meditation where the world-wide mass lay meditation movement began in 1949.
Retreat 1: Jan 17-Jan 26, 2018 (open to all) (25 spaces)
Retreat 2: Jan 26- Feb 4, 2018 (open to all) (25 spaces)
Do one retreat or both back to back.
Details and online retreat registration… http://www.thewisdomofmindfulness.org
Find the 2018 retreats at Mahasi Centre Yangon on facebook
Mahasi Retreat PRESS Release 2018
---
ONGOING
A 9 WEEK WORLD DHARMA ECOURSE
Includes three personal skype sessions with Alan Clements. Merging World Dharma with the Wisdom of Mindfulness and the Liberating Art of Being True and Human.
Details and online retreat registration…
---
"As spiritual and political beings we are all activists at heart. No one is outside of society…It's about our freedom. That means everybody. We must see that nothing and no one is separate from this freedom. No one is an island in this world." Aung San Suu Kyi, excerpted from ``The Voice of Hope``
---