News & Schedule of Events for World Dharma and Alan Clements
---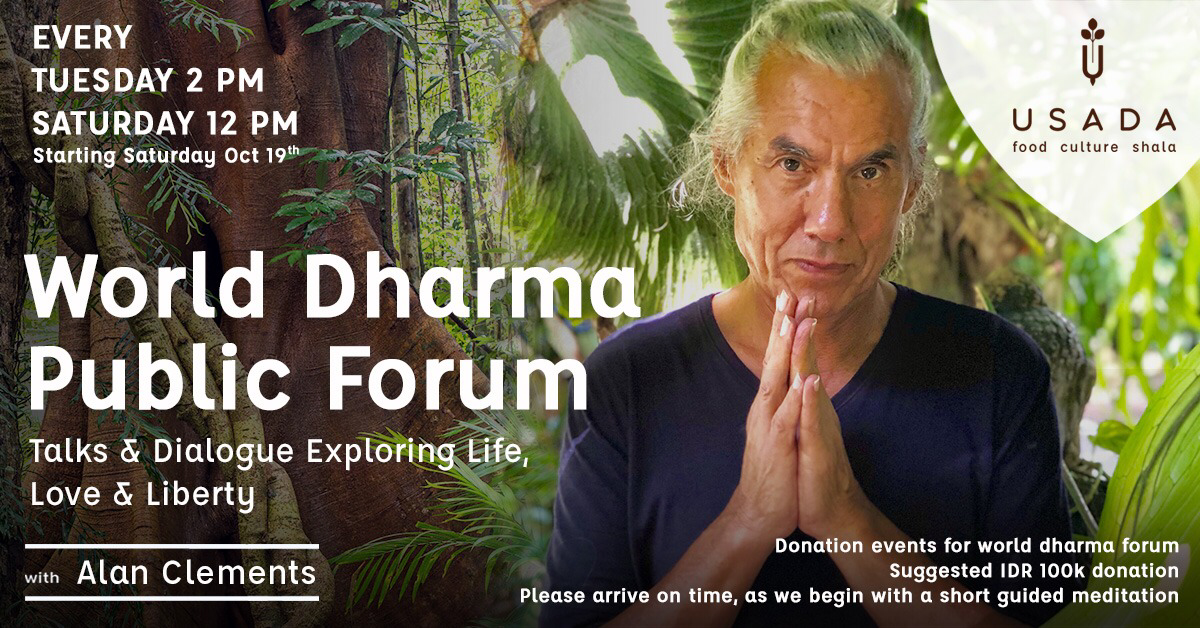 Starting Saturdays Oct 19 at noon & Tuesdays October 22 at 2 pm
The World Dharma Public Forum & Meditation at Usada, Bali
Alan will present a series of World Dharma Talks & Meditations
The WD Forum is a dynamic environment for radical inquiry,
beyond dogma, religion, philosophy and beliefs.
Details on Facebook (also live stream)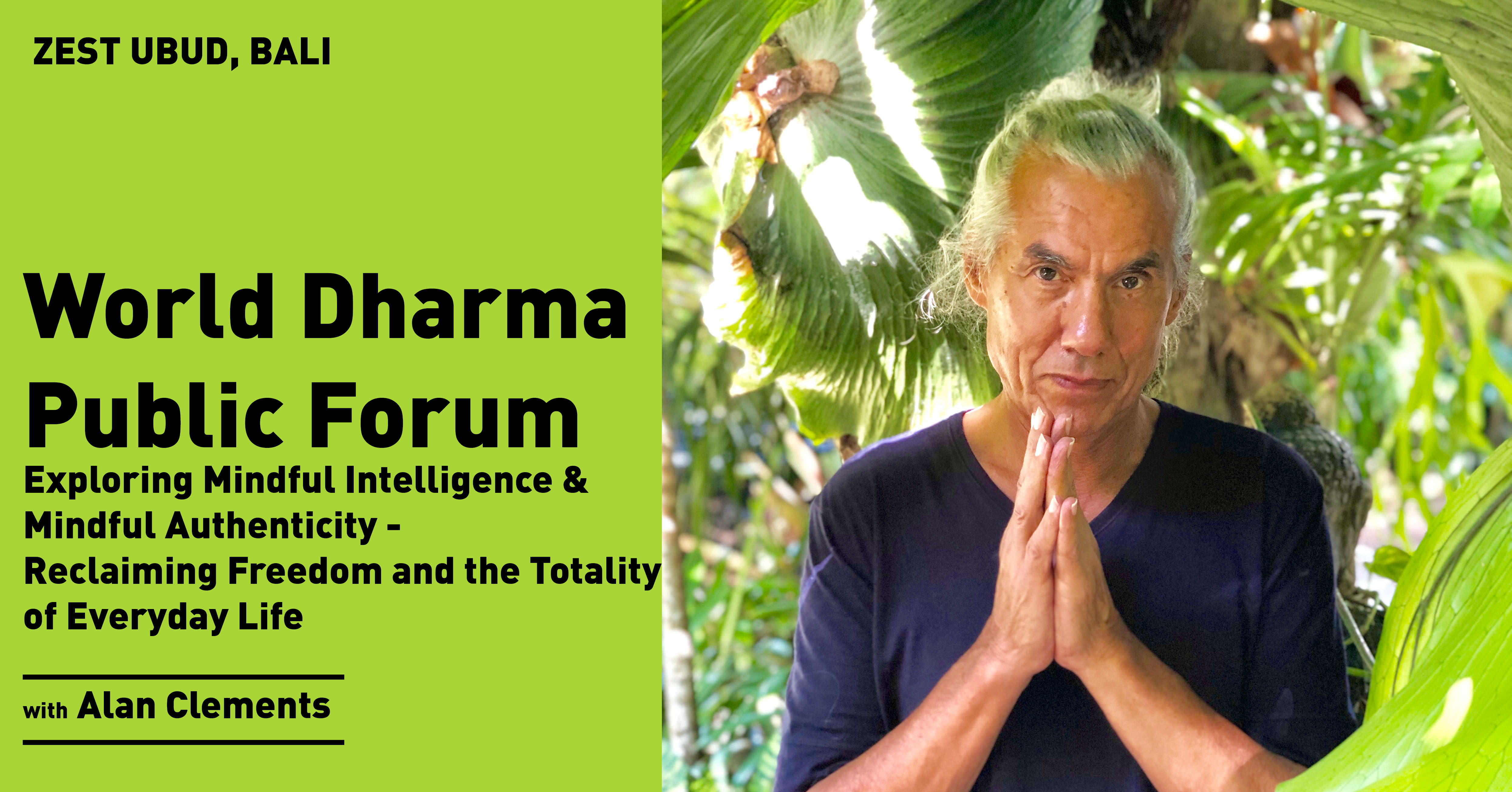 Zest, Ubud, Bali Saturday Nov 30 from 3 to 6 pm
Alan will present his World Dharma Public Forum Workshop:
"Reclaiming Freedom and Authenticity and the
Totality of Everyday Life (a mindful intelligence
and meditation training)," with Q & A & discussion.
Details on Facebook (also live stream)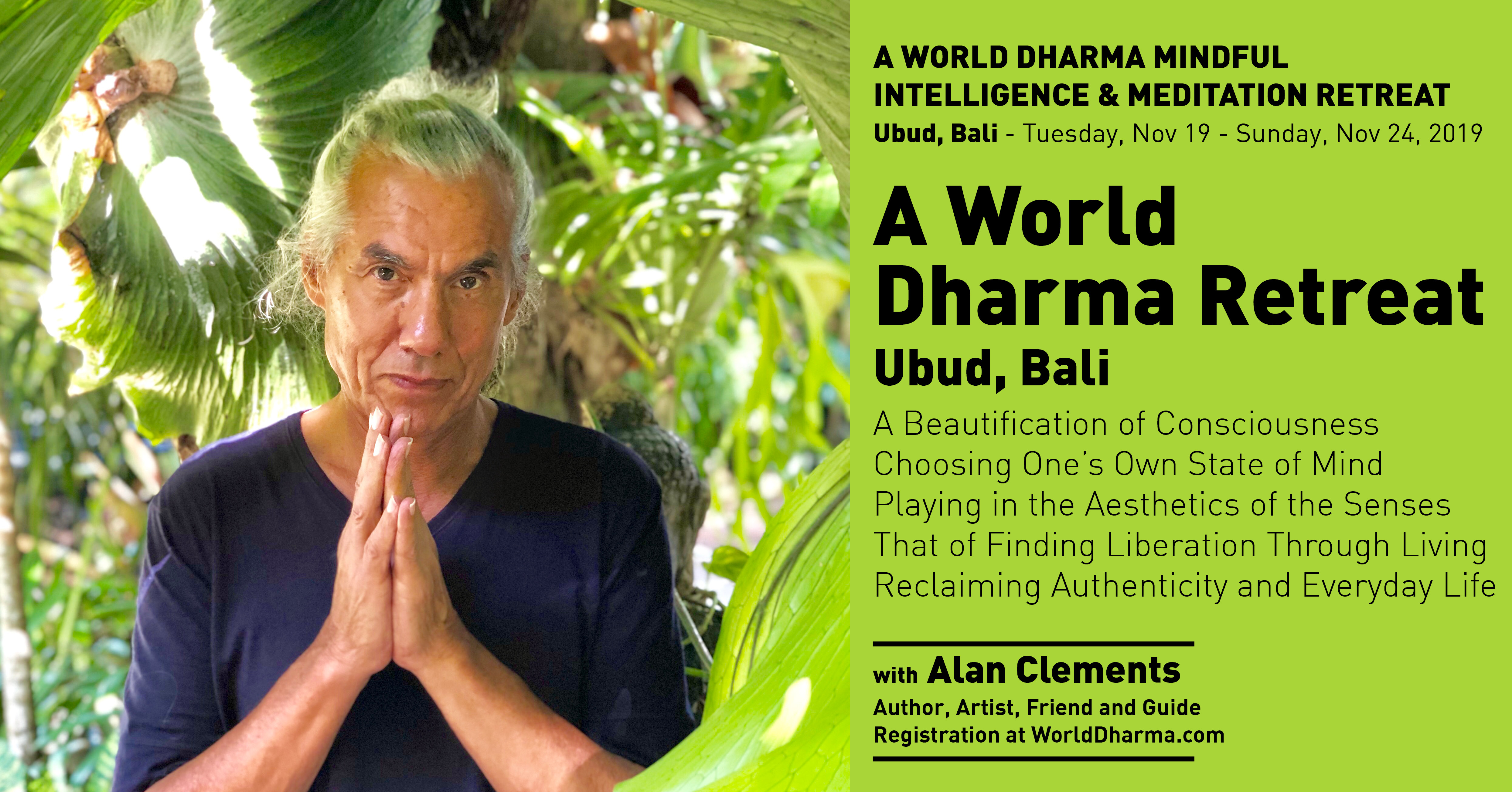 Ubud, Bali, Indonesia — Tuesday, Nov 19 – Sunday, Nov 24, 2019
The World Dharma Public Forum of Bali with Pondok Wahyu Ubud
Six Day World Dharma Mindful Intelligence & Meditation Retreat
The Practice of World Dharma is the Cultivation of Bhavana
Beautification of the Mind and the Aesthetics of the Senses
with Alan Clements
The Practice of "Mindful Intelligence" is the Cultivation of Parami
Choosing One's State of Mind – Finding Liberation Through Living
Reclaiming Freedom, Authenticity & the Totality of Everyday Life
This non-residential retreat is offered to all on a drop-in basis.
It's offered freely: an unconditional Gift to our Bali Community.
There are two group sessions daily from Tuesday thru Sunday:
1) 9:00 am to 12:00 pm (a break for lunch and enjoy the pool)
2) 2:00 pm to 5:00 pm (either return home or meet for dinner)
Arrive 10-15 min ahead of a session. Doors close 10 min after.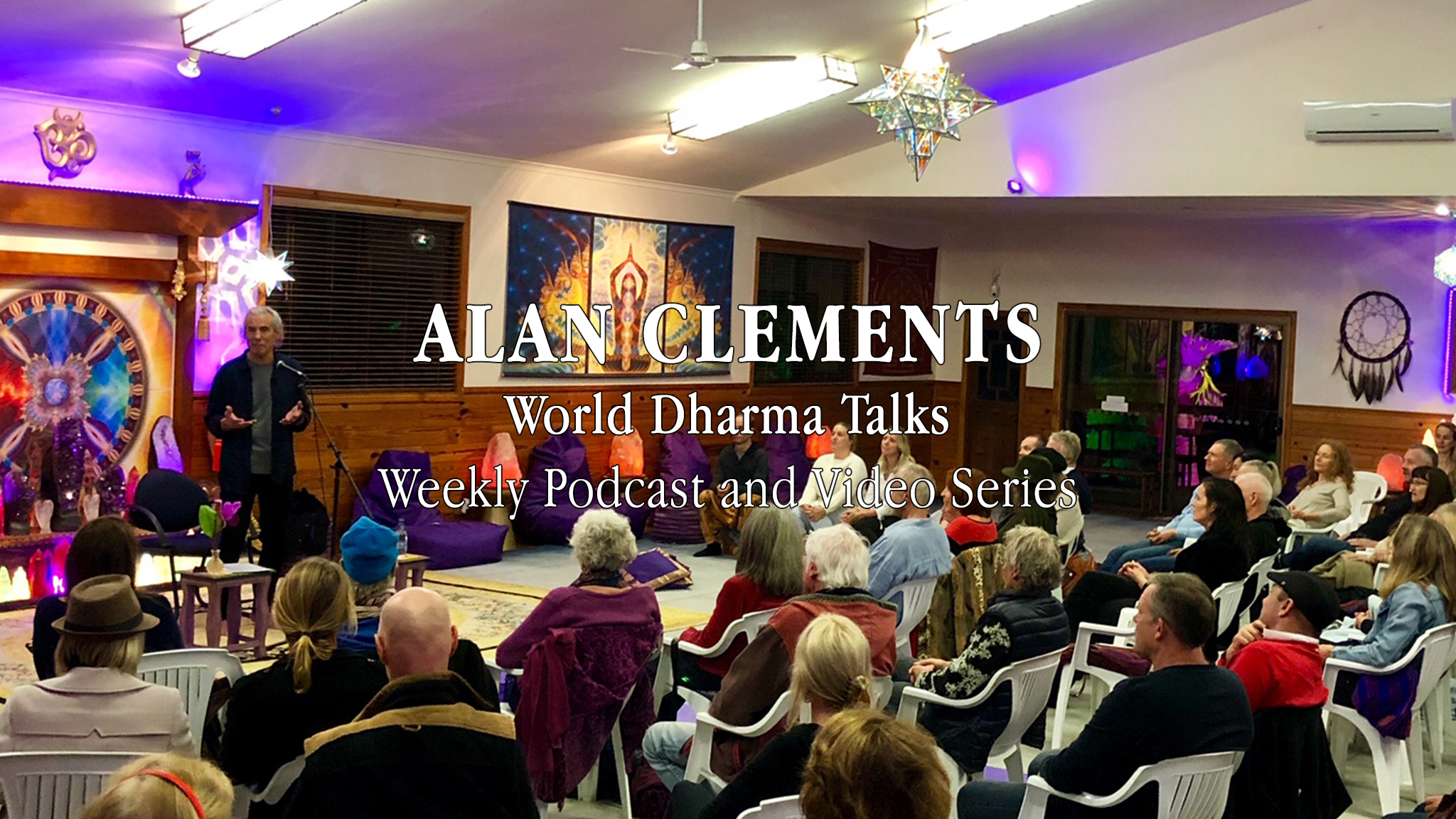 Coming very soon.
Subscribe to the new video series, here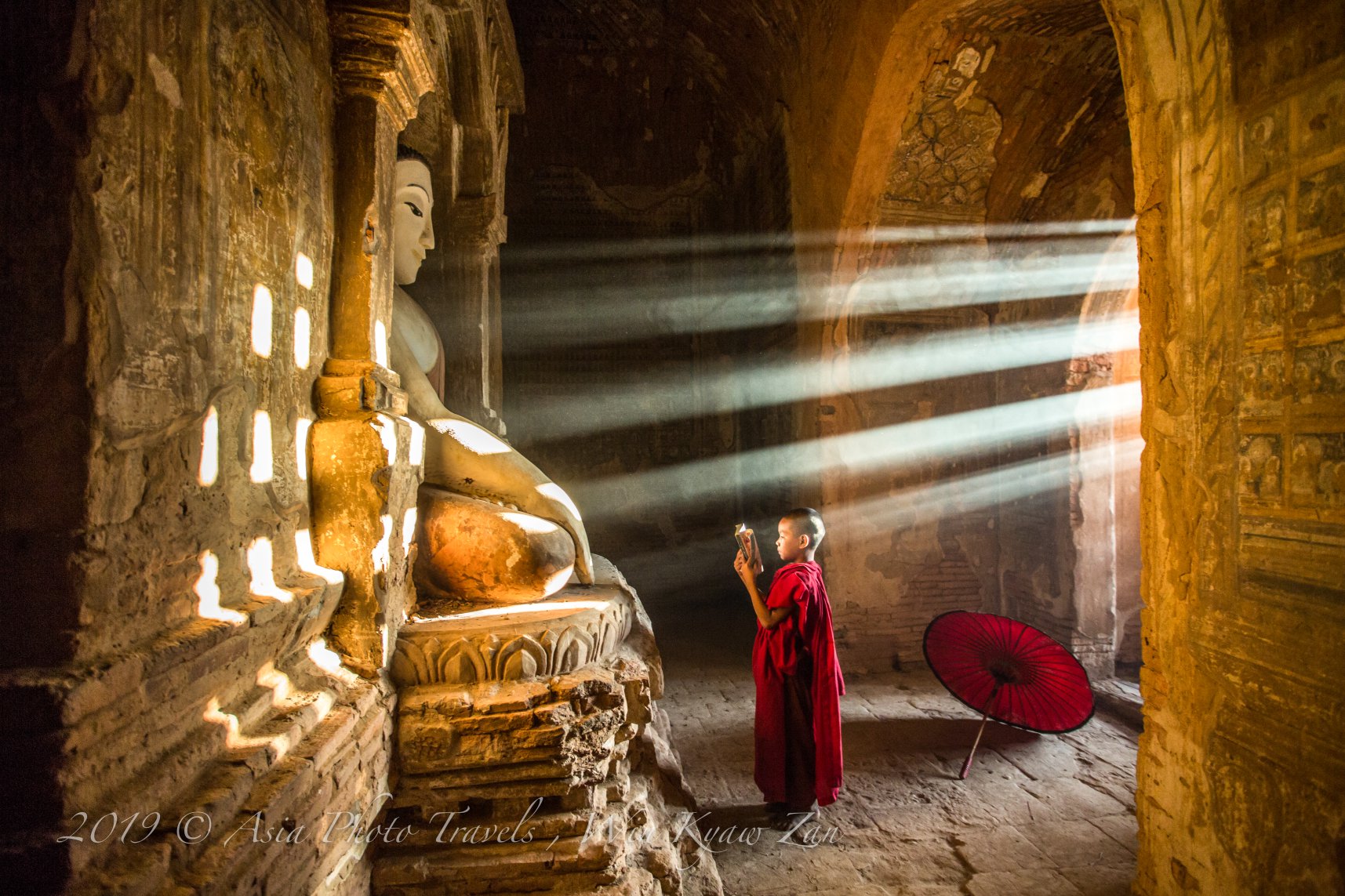 Burma, Myanmar – A Ten Day Tour Feb 10 – 19, 2020
A Homage to Burma
Dhamma
Pilgrimage Tour with Alan Clements
Organized and Guided by his dear
Dhamma
friend, Ms. Snow Aye
10 Days /9 Nights – February 10-19, 2020 (Monday to Wednesday)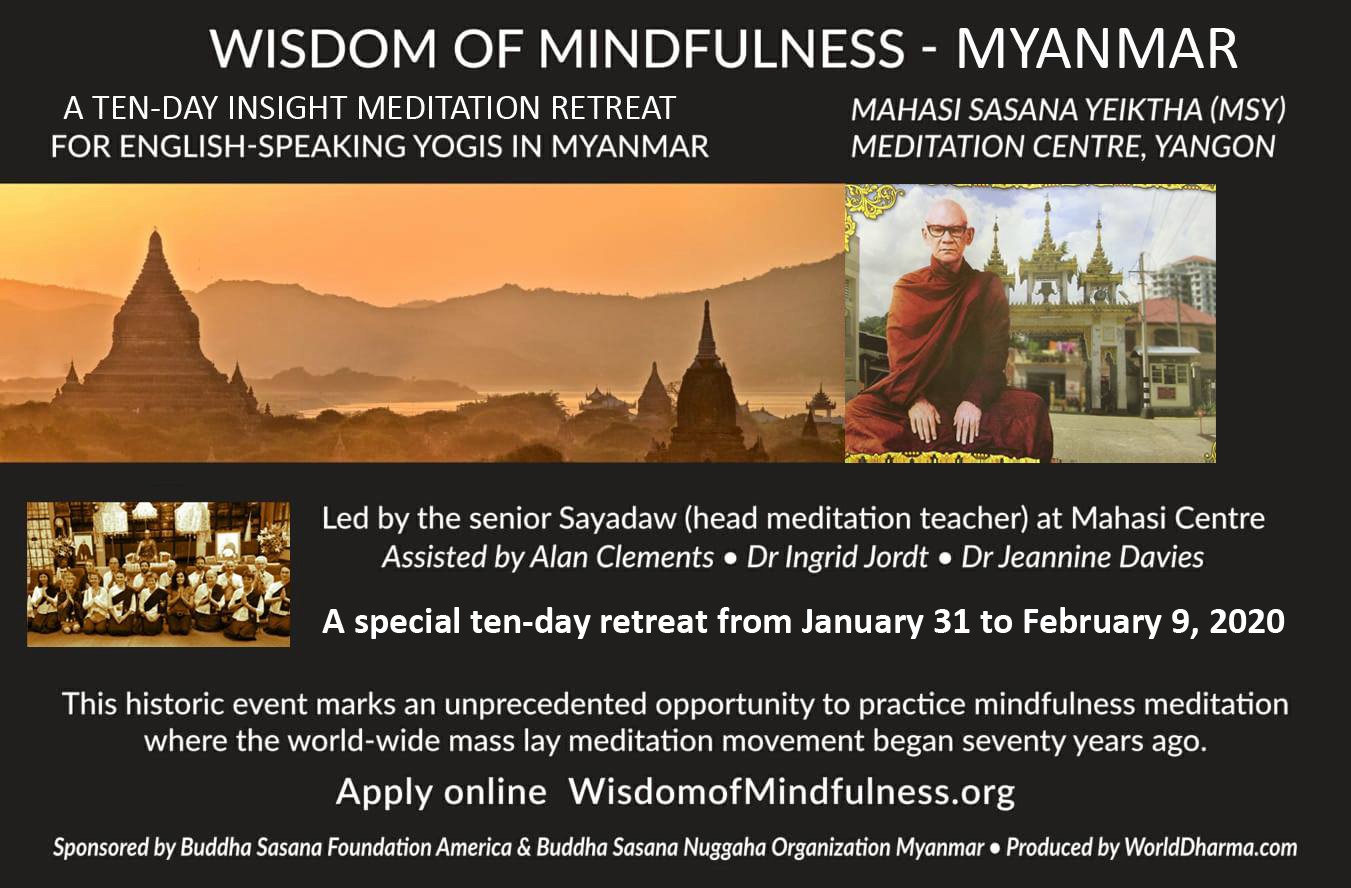 Fifth Annual Wisdom of Mindfulness Retreat

JANUARY 31 TO FEBRUARY 9, 2020

Insight Meditation in Myanmar for English Speaking Yogis
Mahasi Sasana Yeiktha (MSY) Meditation Centre
16 Sasana Yeiktha Road, Bahan Yangon
This historic event marks an unprecedented opportunity for English speaking yogis to practice mindfulness meditation where the world-wide mass lay meditation movement began in 1949.
The retreat is available by online application (below) for 25 participants.
Led by the Head Sayadaw (Meditation Teacher) at the Mahasi Centre
Assisted by Alan Clements & Dr Ingrid Jordt & Dr Jeannine Davies
Daily dhamma talks in English by the Head Sayadaw (teacher)
Daily meditation interviews for yogis with the Head Sayadaw
Daily (optional) meditation-based Q & A & discussions with Alan Clements
Private rooms with washrooms
Vegetarian or traditional meals
Details and online retreat registration…
---
SUNDAY JANUARY 26, 2020 from 8:30 am to 6:00pm
Also a Day-Long Wisdom of Mindfulness Meditation Retreat
Insight Meditation in Myanmar for English Speaking Yogis
For those living, working, serving or travelling in country
At the Mahasi Meditation Centre, Yangon, Myanmar
Available by application for the 200 participants
Details and online registration
ONGOING
A 9 WEEK WORLD DHARMA ECOURSE
Includes three personal skype sessions with Alan Clements. Merging World Dharma with the Wisdom of Mindfulness and the Liberating Art of Being True and Human.
Details and online retreat registration…
"As spiritual and political beings we are all activists at heart. No one is outside of society…It's about our freedom. That means everybody. We must see that nothing and no one is separate from this freedom. No one is an island in this world."