Video & Audio Archive of World Dharma Talks by Alan Clements
READ THE FEATURE ARTICLE IN THE MAUI INDEPENDENT
Alan Clements and Reverend Bodhi Be in conversation on their new book, Facing Death. Facing Death
https://youtu.be/vkx0JTs9XMQ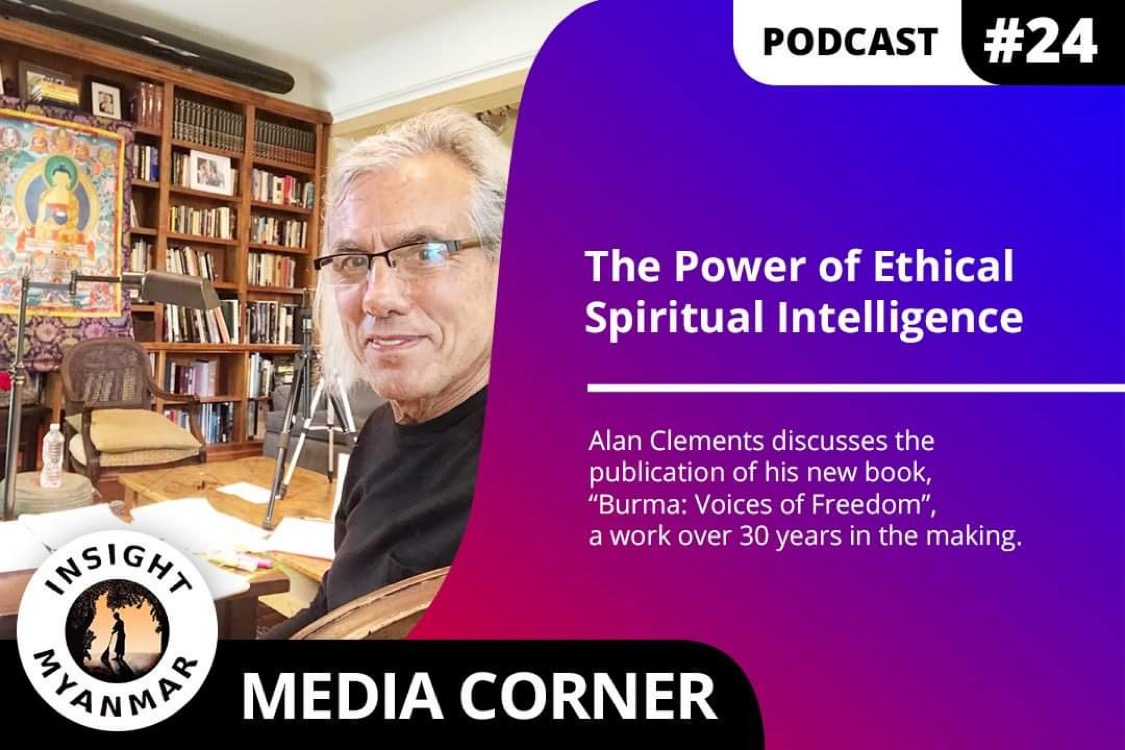 A long form interview with Alan Clements on his life and work in Burma
 Power of Ethical and Spiritual Intelligence – Insight Myanmar Podcast
              Alan Clements interviewed on the Crisis in Burma
               by the LA Burma Youth Activist Group June 2021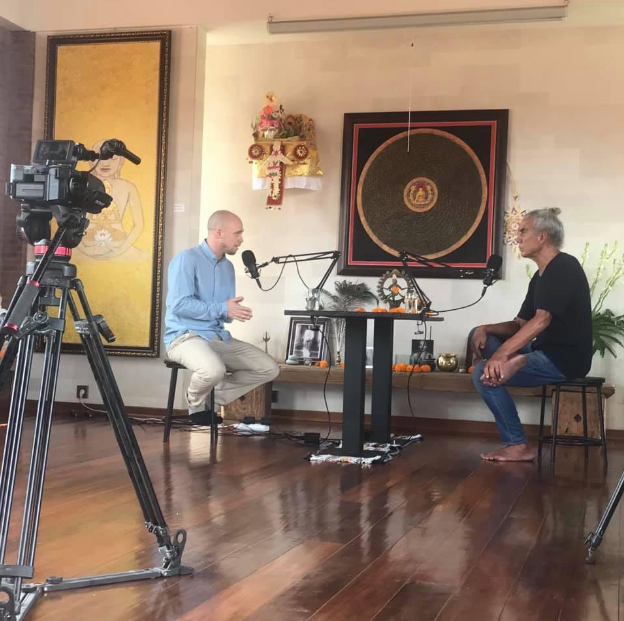 To access our audio/video archives click here…
Insight Myanmar Podcast: Alan Clements Dhamma Life in Burma 1977-2020
Alan Clements: Embedded in Mystery & the Quest for Certainty: video 56 sec
June 14, 2019: Podcast, Melbourne: Funny in Failure: The Art of Not Fitting In
June 25, 2019 Podcast: On Meditation, Intimacy, and Beautiful States of Mind
August 1, 2019 Podcast One Kind Mind: Exploring the Landscape of the Mind
May 2019 #1: Are We Humans Going Extinct? 12 minute video
May 2019 #2: Whats it Like to Live as a Buddhist Monk? 8 min
May 2019 #3: Where Does The Spiritual Path Lead? 7 min
May 2019 #4: What If the President Had An Awakening? 3 min
May 2019 #5: Overcoming Alcoholism & Other Addictions 6 min
Alan Clements – Inner Resilience
From the upcoming feature documentary film
PREPARE for Climate and Economic Collapse
by Peter Downey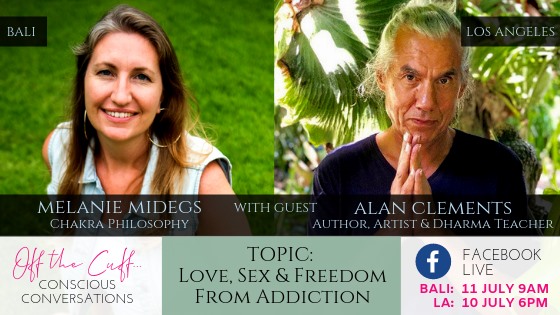 Conscious Conversations: Love, Sex & Freedom from Addiction
with Guest Alan Clements via Facebook Live from Bali to LA.
Sept 9, 2019:Interview (video) Inspired Relationships in a World On Fire Melanie Midegs Off the Cuff Conscious Conversation with Alan Clements
Sept 10, 2019: Conscious Living Radio Vancouver Tasha Simms and MarcCaron speaking w/ Alan Clements about his book "Wisdom For the World"
Sept 19, 2019 Alan Clements interviewed by John Malkin KZSC Santa Cruz Transformational Highway: Book, "Wisdom for the World", Burma, Right and Wrong Mindfulness, Mindful Intelligence, Aung San Suu Kyi, Climate Strikes, Totalitarianism, Ghost Slaves and Mystical Activism.
Oct 4, 2019. Wisdom for a World in Crisis Buddhist practitioner and teacher Alan Clements, author of Wisdom for the World disrupts the platitudes about belief and anchors authentic spirituality inconscience and right action — with Alison Rose Levy. Connect the Dots Podcast New York City (strong)
 Oct 2019 Seeking What the Soul Desires – An Interview with Alan Clements
(43 min) A Meaningful Life By Design – Host Kylie Butler
Tricycle Magazine Excerpt
Read: In conversation with Alan Clements, Venerable Sayadaw U Pandita
offers his "Final Words" for attaining peace in our inner and outer worlds
Read the book "Wisdom for the World" online.
Dec 13, 2019 Podcast The Beautification of the Mind, Love, Sex & Intimacy
Awakening to Life
Interview with Alan Clements
by Joanna Harcourt-Smith for Future Primative
Dec 15, 2018: Listen to the 1-hour interview here
A Future To Believe In
Dr Ann West, Truth From the Source
interviews Alan August 17, 2016
Listen to the one-hour interview here:
Betray the Age to be Free
ABC National's Rachael Kohn, an interview with Alan. March 15, 2015
Propaganda and Spiritual Self Defense
Roundhouse Radio Vancouver speaks with Alan in a 5-part series
PART I 10/20/15 Meditation as the Practice of Global Human Rights
PART 2 10/27/15 Mindfulness and Dharma Intelligence
PART 3 11/2/15 Propaganda and the Practice of Spiritual Self-Defense
PART 4: 11/17/15 Burma's Struggle for Freedom
http://bit.ly/1MngJoG
PART 5: 11/24/15 World Dharma
http://cirh.streamon.fm/listen-pl-268
Burma: Life After Dictatorship
Interview with ALAN CLEMENTS discussing his recent
trip to Burma and the VISION for his new BOOK and FILM on Radio Free
Santa Cruz, June 11, 2013: Burma's Voices of Freedom: Life After
Dictatorship.

A Future to Believe In
Alan Clements on Free Radio Santa Cruz on January
19, 2012, hosted by John Malkin on "The Great Leap Forward." Hear Alan
discuss his new book A Future to Believe In, the Arab Spring, Aung San
Suu Kyi and Burma's current developments, and their link with Global
Revolution and the Occupy Movement.
Print Media
Selected Radio Interviews
"Betray the Age to Be Free" – An Interview with Alan Clements. ABC National Radio Australia: The Spirit of Things – March 2015
Alan talks about spiritual activism, Aung San Suu Kyi, and the new and updated edition of his book, The Voice of Hope, on ABC Radio National's The Spirit of Things with host Rachael Kohn (55 minutes).
Alan is interviewed on ABC National Radio's The Conversation Hour, the most respected national radio program in Australia, about a range of topics; Buddhism, meditation, freedom, Burma & Aung San Suu Kyi.
Air America Radio (50 min) Burma Land of Hostages
Australian Radio (15 min) Buddhism in Burmas Uprisings
Australian Radio panel (16 min) Discussing Aung San Suu Kyi
Canadian National Radio (7 min) Rangoon Under Siege