Interviews & Archives​
Video & Audio Archive of World Dharma Talks by Alan Clements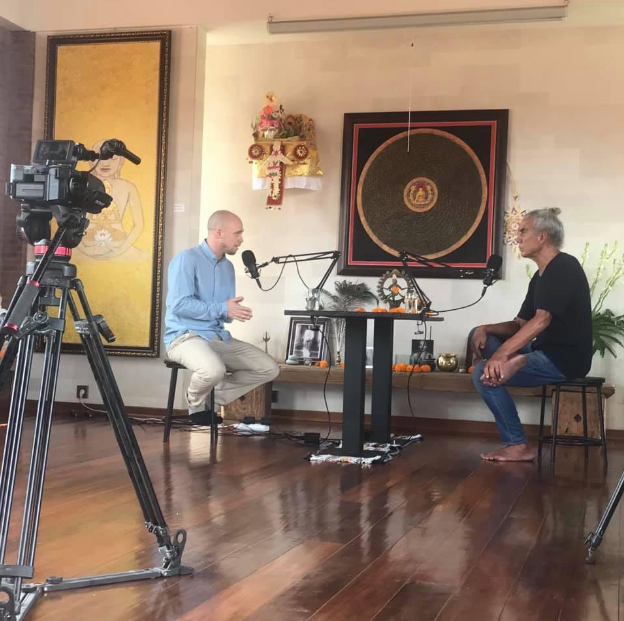 ---
INAUGURAL video podcast The Naked Guru Usada, Ubud, Bali May 15, 2019
---
Alan Clements Live:
Embedded in Mystery and the Quest for Certainty (56 sec)
June 14, 2019: Podcast, Melbourne:
Funny in Failure: The Art of Not Fitting In
June 25, 2019 Podcast:
On Meditation, Intimacy, and Beautiful States of Mind
August 1, 2019
Podcast One Kind Mind: Exploring the Landscape of the Mind
---
Alan Clements – Inner Resilience
From the upcoming feature documentary film
PREPARE for Climate and Economic Collapse
by Peter Downey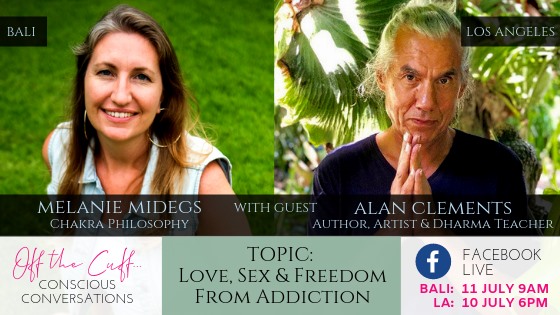 Conscious Conversations: Love, Sex & Freedom from Addiction
with Guest Alan Clements via Facebook Live from Bali to LA.
Tricycle Magazine Excerpt
Read: In conversation with Alan Clements, Venerable Sayadaw U Pandita
offers his "Final Words" for attaining peace in our inner and outer worlds.[/text_output]
---
Awakening to Life
Interview with Alan Clements
by Joanna Harcourt-Smith for Future Primative
Dec 15, 2018: Listen to the 1-hour interview here
A Future To Believe In
Dr Ann West, Truth From the Source
interviews Alan August 17, 2016
Listen to the one-hour interview here:
Betray the Age to be Free
ABC National's Rachael Kohn, an interview with Alan. March 15, 2015

Propaganda and Spiritual Self Defense
Roundhouse Radio Vancouver speaks with Alan in a 5-part series
PART I 10/20/15 Meditation as the Practice of Global Human Rights

PART 2 10/27/15 Mindfulness and Dharma Intelligence
PART 3 11/2/15 Propaganda and the Practice of Spiritual Self-Defense
PART 4: 11/17/15 Burma's Struggle for Freedom
http://bit.ly/1MngJoG
PART 5: 11/24/15 World Dharma
http://cirh.streamon.fm/listen-pl-268
[/vc_column_text]
Burma: Life After Dictatorship
Interview with ALAN CLEMENTS discussing his recent trip to Burma and the VISION for his new BOOK and FILM on Radio Free Santa Cruz, June 11, 2013: Burma's Voices of Freedom: Life After Dictatorship.

A Future to Believe In
Alan Clements on Free Radio Santa Cruz on January 19, 2012, hosted by John Malkin on "The Great Leap Forward." Hear Alan discuss his new book A Future to Believe In, the Arab Spring, Aung San Suu Kyi and Burma's current developments, and their link with Global Revolution and the Occupy Movement.

Selected Radio Interviews
"Betray the Age to Be Free" – An Interview with Alan Clements. ABC National Radio Australia: The Spirit of Things – March 2015
Alan talks about spiritual activism, Aung San Suu Kyi, and the new and updated edition of his book, The Voice of Hope, on ABC Radio National's The Spirit of Things with host Rachael Kohn (55 minutes).
Alan is interviewed on ABC National Radio's The Conversation Hour, the most respected national radio program in Australia, about a range of topics; Buddhism, meditation, freedom, Burma & Aung San Suu Kyi.
Air America Radio (50 min) Burma Land of Hostages

Australian Radio (15 min) Buddhism in Burmas Uprisings

Australian Radio panel (16 min) Discussing Aung San Suu Kyi

Canadian National Radio (7 min) Rangoon Under Siege