World Dharma in Conjunction with
RYU – Respect Your Universe
Host Alan Clements' return to Vancouver to Present​
​A ​Five Week Series of Open Public Groups,
​With Alan Clements Monday​s​ from 7​:15​– 8:30pm
Starting Monday ​April 13.
Hosted at RYU's flagship store (turned into community space),
1745 4th Ave, just east of Burrard, on the cityside of 4th Ave.
Exploring the Wisdom of Mindfulness in the World: Conscience,
Insight Meditation, Empowerment, and Compassionate Action –
Claiming Freedom & Authenticity – the Totality of Everyday Life.
Offered freely to the Vancouver Community.
Includes meditation and a presentation by Alan with Q & A.
We are developing here in Vancouver a mindful community of
artists, activists, students, rebels, thinkers and freedom loving
seekers of all kinds, dedicated to the transformation of
consciousness and the actualization of our highest potentials.
Please come out and bring your friends.
We cannot build this vision of hope without you.❤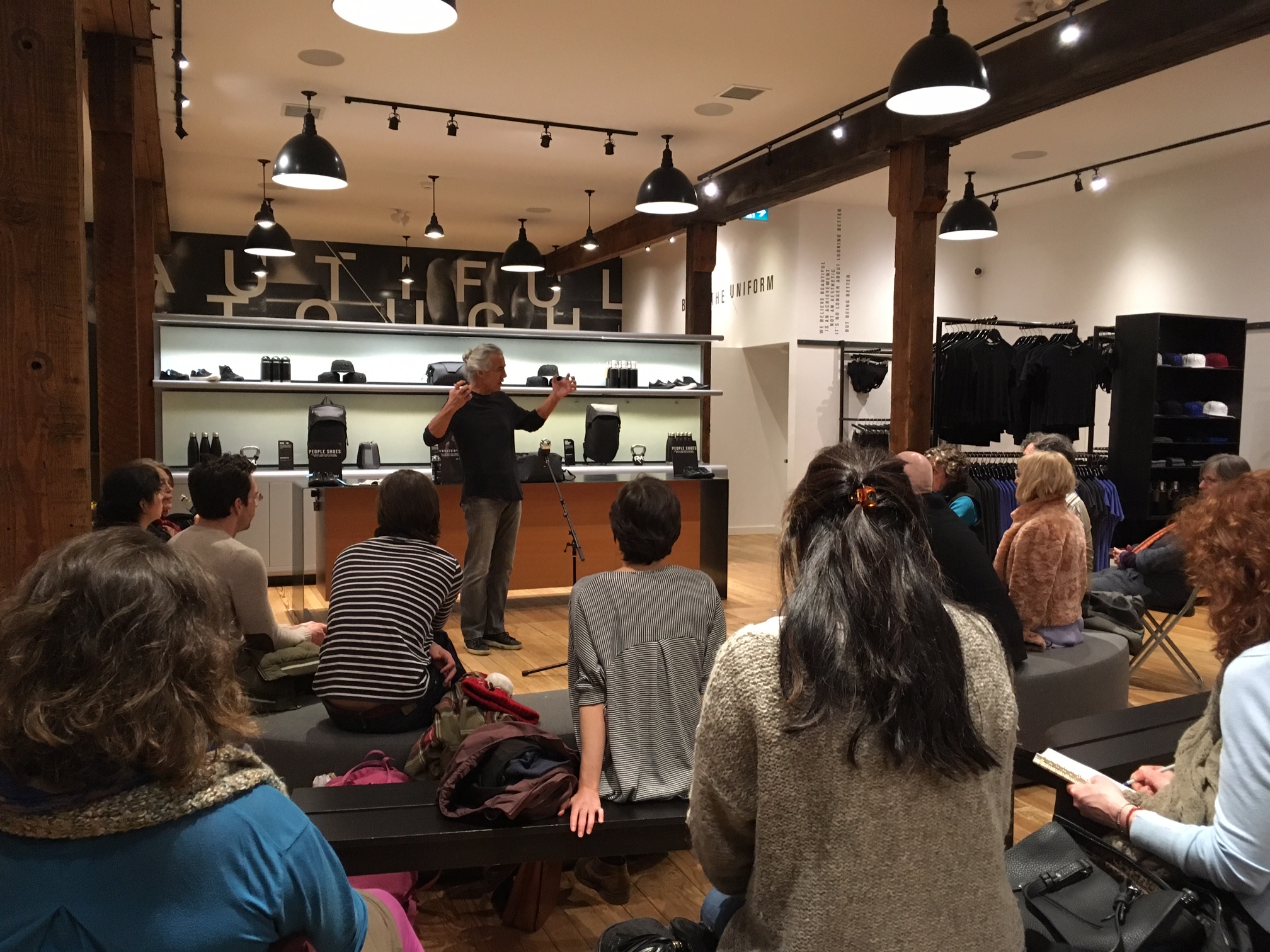 "Alan's life is material for a legend. An intellectual artist, freedom fighter, former Buddhist monk, he shares his insights and experience with a passion rarely seen and even more rarely lived. He'll make you think and feel in ways that challenge your entire way of being."Catherine Ingram, In the Footsteps of Gandhi & Passionate Presence
"One of the most important and compelling voices of our times . . . a riveting communicator — challenging and inspiring. Alan articulates the essentials of courage and leadership in a way that can stir people from all sectors of society into action; his voice is not only a great contribution during these changeful times, it is a needed one."Jack Healy, former director of Amnesty International, founder of Human Rights Action Center.
"Alan's eloquence moves audiences to ask the questions behind questions about how we live, why we work, and how it fits together. Alan's presence —his remarkable ability to engage an audience, connect with their heart —stands alongside the best talent I have seen in the world."Robert Chartoff, Producer of Rocky, The Right Stuff, and Raging Bull
Offered freely to the Vancouver Community.
A 6 Week Series (11 groups) Monday & Friday 7 – 8:30 pm.
Monday March 6 & Friday March 10
Monday March 13 & Friday March 17
Monday March 20 & Friday March 24
Monday March 27 & Friday March 31
Monday April 3 & Friday April 7
Monday April 10
Attend as many evenings as you choose.
Doors open 6:30 pm.
Chairs provided or bring a meditation cushion.
Open to all and for all levels of experience.
Share and invite friends on facebook
________________________________________________________
In addition, Attend the Wisdom of Mindfulness
Mind-Life Transformation Retreat April 13-17,
near Vancouver, led by Alan Clements.
Details and online registration; reserve your space…
"Whenever I was asked at the end of each stretch of house arrest (17 years in total) how it felt to be free, I would answer that I felt no different because my mind had always been free. I have spoken out often of the inner freedom that comes out from following a course in harmony with one's conscience."Aung San Suu Kyi, Burma's Nobel Peace Laureate