Shows – Spiritually Incorrect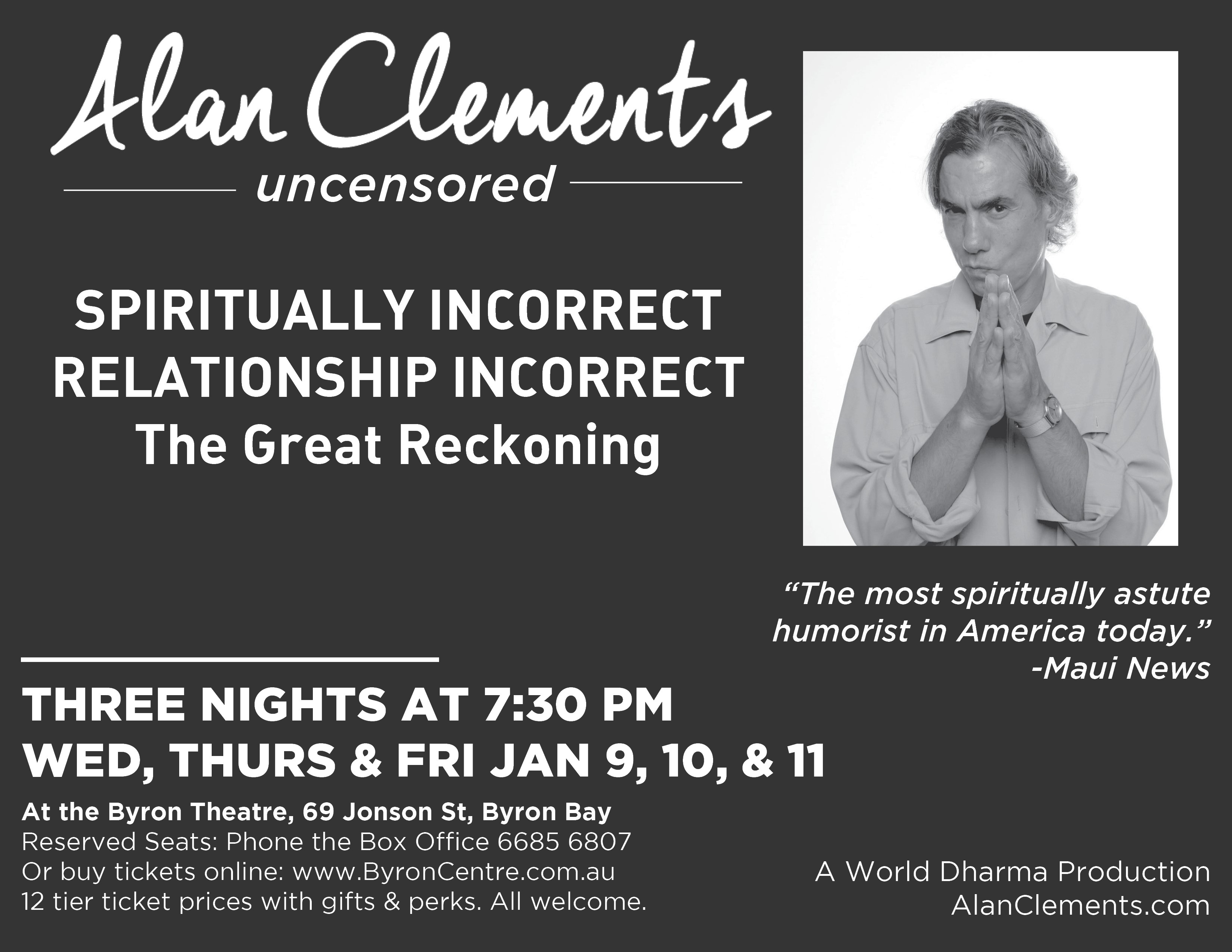 A clip from an upcoming feature documentary film by Peter Downey on the life of Alan Clements and his one man show Spiritually Incorrect: Alan Clements Uncensored.
Please join us for Alan's upcoming three nights in Byron Bay
Wednesday, Thursday & Friday, January 9, 10 & 11 – 7:30-9:00 PM
BYRON BAY, AUSTRALIA THREE SHOWS
Alan Clements Uncensored: Spiritually Incorrect
Byron Theatre, 69 Jonson Street, Byron Bay
Reserved Seats: Phone the Box Office 6685 6807
Alan Clements Spiritually Incorrect meets Relationship Incorrect The Great Reckoning – A Feature for the Byron Blog Dec 19, 2018
"We need to release people (ourselves) from prison and slavery – to the dark magic of cultural indoctrination that compels you (us) to behave in ways that fortify "mindful self-slavery" and impassioned self-bondage even to the point of selling so-called spiritual or yogic or meditative trainings of enslavement that insidious serve muting you and others into a faceless characterless propaganda speaking mannequin of the Man – $, dogma, popularity, fame, fear, numbers of followers, hollow numb statistics of the mindfully walking dead."Alan Clements Uncensored
PRINT: Interview with Alan Clements:The Maui Independent: Nov 2017
VIDEO: Alan Clements Interview on "Off the Record on Maui" Nov 2017
​View Spiritually Incorrect show poster
View Spiritually Incorrect press release
View Spiritually Incorrect invitation
View Spiritually Incorrect invitation 2:
Byron Theatre Shows on Facebook Wed,Thurs & Fri Jan 9, 10 &11
THREE NIGHTS Alan Clements Uncensored from 7:30 pm to 9 pm.[/text_output]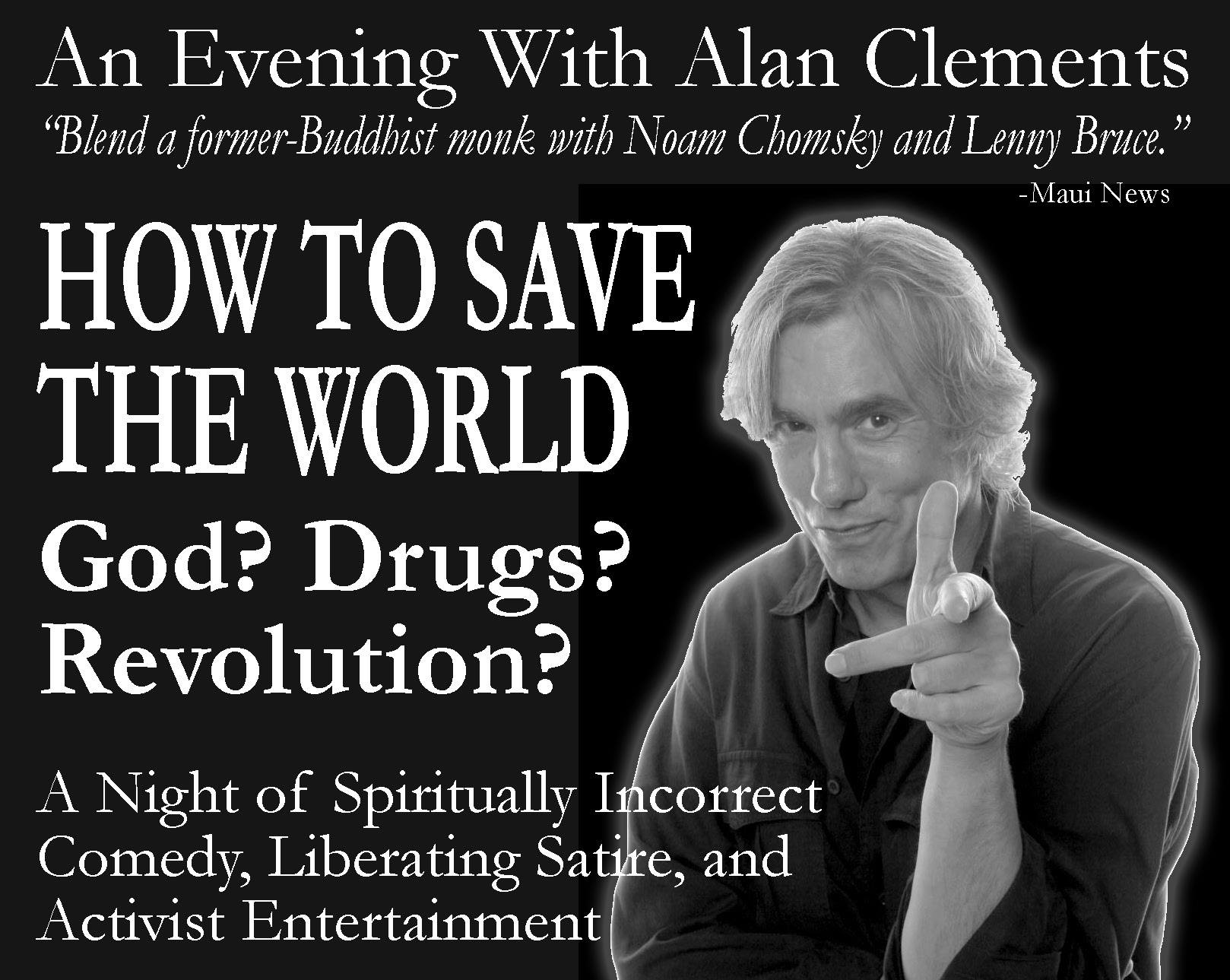 VIDEO: Alan Clements discusses "Spiritually Incorrect" Byron Bay 2018
PRINT: Interivew Manday Byron Echo May 2018FINAL, May 2018
PRINT: FINAL Byron Bazaar May 14 2018 with Cat, May 2018
Vancouver Courier Sept 26, 2014
Respect diversity to find peace
Former Buddhist monk Alan Clements performs 'activist entertainment' in benefit for Burma Project
"Irreverence is the champion of liberty and its only sure defense."Mark Twain (1888)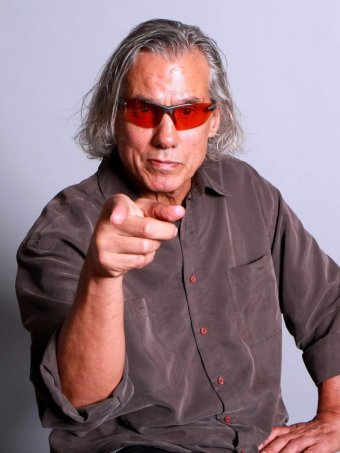 ---
Betray the age to be spiritually free:
Dr Rachael Kohn speaks to Alan at the tail end of his Australian tour. 15 March 2015

Existential Outtakes and the End of War (archival material 2002)
---
Critics have hailed Alan Clements' shows as…
"Blend a former Buddhist monk with Noam Chomsky, Lenny Bruce, and a hyper-spiritual Terrence McKenna and you get a sense of Alan Clements' hilarious, brilliant, and deliciously irreverent one-man performance."Jon Woodhouse, Entertainment writer, The Maui News
Alan Clements' shows are "a scorching comedic romp through the world of spiritual and political indoctrination and the commodification of mind states."Paul W. Morris, former managing editor of Tricycle: The Buddhist Review and an editor at the Utne award-winning website Killing the Buddha, as reviewed in Yoga Journal.
A short profile produced by CBC TV Canada (containing clips from one of the first shows)
A short clip from Spiritually Incorrect in 2005, The Politics of Violence Part I
A short clip from Spiritually Incorrect in 2005, The Politics of Violence Part II