News & Schedule of Events for World Dharma and Alan Clements

MONDAY MARCH 6 – MONDAY APRIL 10, 2017

World Dharma Vancouver –
In Conjunction with RYU – Respect Your Universe
A Series of Open Public Groups Offered Freely
Every Monday & Friday from 7 to 8:30 pm
Starts Monday March 6, ends Monday April 10
Exploring the Wisdom of Mindfulness in the World:
Conscience, Meditation, Empowerment, Action –
Claiming Freedom and Authenticity –
The Totality of Everyday Life.
Meditation and Presentation by Alan with Q & A.
Hosted at RYU's flagship store (turned into a community space)
1745 4th Ave ​just east of Burrard​, cityside of 4th.
Click here for further details …
---
SPRING 2017 April 13-17, 2017

A Five Day World Dharma Wisdom of Mindfulness
Mindful Intelligence Transformation Training Retreat
Reclaiming the Authenticity of One's Own Mind and
The Totality of Everyday Life – A Freedom that is Free
Insight Meditation, Buddhist Psychology & the Courage To Care
Alan Clements and Special Guests
At Edenvale Retreat Centre near Vancouver, BC, Canada.
If interested in attending this groundbreaking retreat fill out the
online application here and we will confirm your space in a day.
The retreat will be limited to the first 21 applications.
Cost: $995 $USD (shared; 2 to a room) all inclusive
Cost: $1295 $USD (private) all inclusive.
Vegetarian meals.
---
Thursday March 23 at 7 to 10 pm
Vancouver, Canada
The Future of Mother Earth
Presentation and Dialogue
Emily Carr University, !399 Johnson St.,
Granville Island, Granville Island, Vancouver,
Theatre room 301 south building, .
Tsleil-Waututh Nation guest speakers
Amy George, Reuben George,
Cedar George-Parker and
Hereditary Chief Phil Lane
and Alan Clements.
---
May 19 & May 21
Melbourne, Australia
Friday May19 from 7 to 9 pm
Wisdom of Mindfulness in the World
Public presentation Alan Clements
Sunday May 21 from 10 am to 4 pm
Workshop: Authenticity and Freedom –
Reclaiming the Totality of Everyday Life
One Heart Yoga & Meditation
1 St Helier's St., Abbotsford, Melbourne
Ticketing on Eventbrite:
On facebook:
---
MAY 2017
Wisdom of Mindfulness
A Buddhist-Inspired, Insight Meditation,
World Dharma Retreat Australia 2017
with Alan Clements & Special Guests
Seven Day Mindfulness Training with Insight Meditation,
Process-Oriented Buddhist Psychology & World Dharma –
Finding Freedom In Every Circumstance that We Face
May 29 – June 4, 2017
At Gymea Eco Retreat & Spa, Uki, NSW (45 min from Byron Bay)
Daily Dharma Talks, Yoga Sessions, Silent & Guided Meditations,
Creative Writing, Group discussions with Q&A, set in Deep Nature
Further details and online application…
---
JANUARY & FEBRUARY 2018
Third Annual
Wisdom of Mindfulness Retreats
Insight Meditation in Myanmar
for English Speaking Yogis
Mahasi Sasana Yeiktha (MSY) Meditation Centre Yangon
This historic event marks an unprecedented opportunity for English speaking yogis to practice mindfulness meditation where the world-wide mass lay meditation movement began in 1949.
Retreat 1: Jan 17-Jan 26, 2018 (open to all) (25 spaces)
Retreat 2: Jan 26- Feb 4, 2018  (open to all) (25 spaces)
Do one retreat or both back to back.
Details and online retreat registration…
http://www.thewisdomofmindfulness.org
Find the 2018 retreats at Mahasi Centre Yangon on facebook:
Mahasi Retreat PRESS Release 2018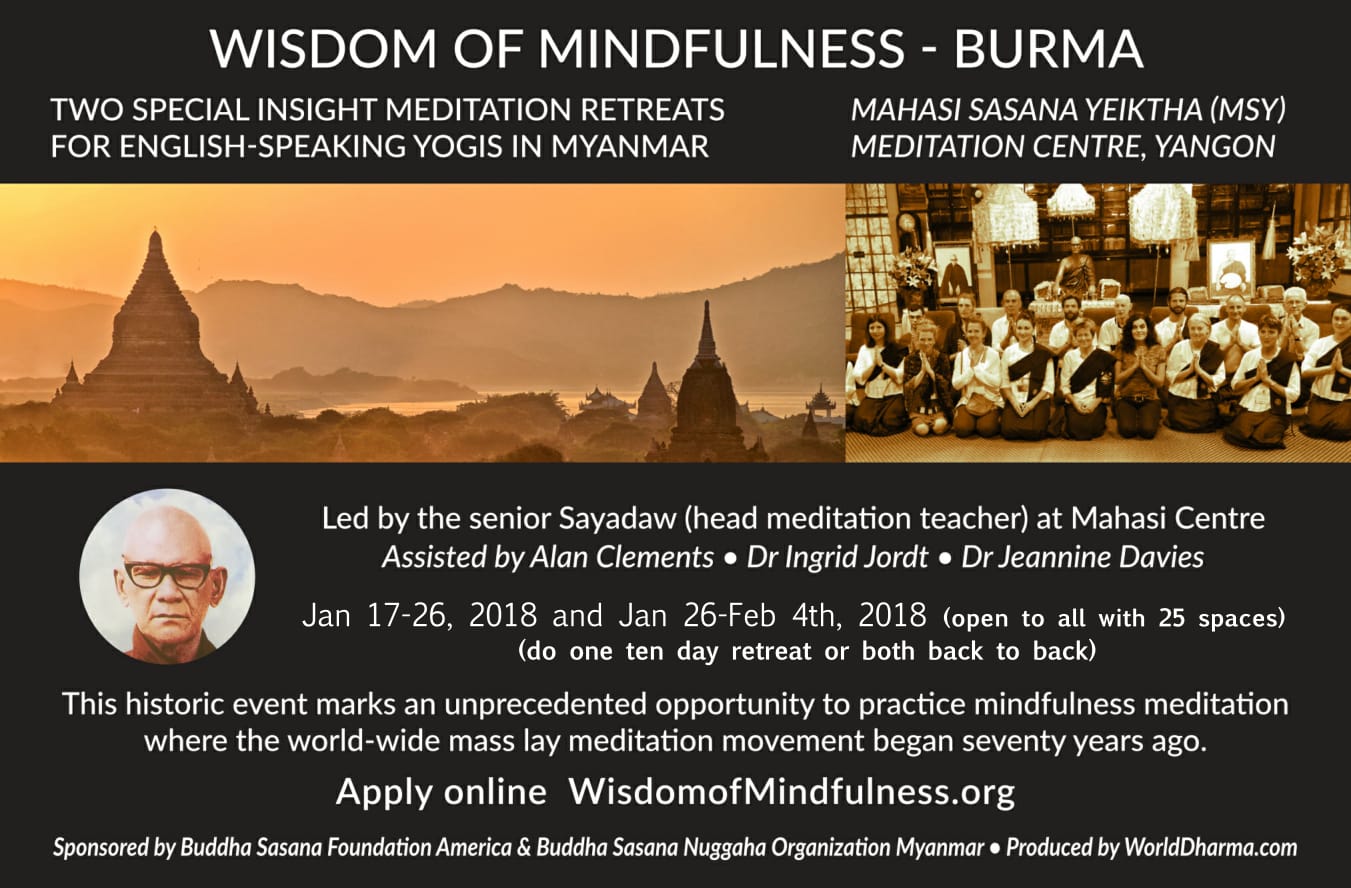 ---
ONGOING
A 9 WEEK WORLD DHARMA ECOURSE
Includes three personal skype sessions with Alan Clements.
Merging World Dharma with the Wisdom of Mindfulness
and the Liberating Art of Being True and Human.
Details and online retreat registration…
---
"As spiritual and political beings we are all activists at heart. No one is outside of society…It's about our freedom. That means everybody. We must see that nothing and no one is separate from this freedom. No one is an island in this world."

Aung San Suu Kyi, excerpted from ``The Voice of Hope``
---