News & Schedule of Events for World Dharma and Alan Clements
---
January 16 – 20, 2019 Wednesday to Sunday

A Five Day Non-Residential Retreat
The Freedom Training
Learning to Choose Your State of Mind
A World Dharma Mindful Intelligence Immersion
Timetable:
Wednesday & Thursday – 9 am to 6 pm
Friday& Saturday – 9 am to 7 pm
Sunday – 10 am to 6 pm
At Temple Byron, Byron Bay, Australia
Expression of interest, online registration, click here.
Wednesday, Thursday & Friday, January 9, 10 & 11, 2019

Wednesday, Thursday & Friday, January 9, 10 & 11, 2019 – 7:30-9:00 PM
BYRON BAY, AUSTRALIA THREE SHOWS
Alan Clements Uncensored: Spiritually Incorrect
Byron Theatre, 69 Jonson Street, Byron Bay
Uniquely offered to the Byron Shire Community
On a multi-tiered suggested donation basis.
Essentially no one will be refused for financial reasons.
In this time of planetary crisis let us stand in solidarity – heart to heart.
Further details and ticketing towards the end of the year.

POSTPONED UNTIL ALAN RETURNS FROM BURMA (TBA)

Monday & Thursday Nights in Vancouver – Kits near Granville Island
Monday​s & Thursdays in July, Aug & Sept from 7-8:15 pm PT
The World Dharma Forum Mondays with Alan Clements
A Series of Public Talks with Questions and Discussions
The World Dharma Forum is also broadcast worldwide via Facebook Live
The World Dharma Forum is offered freely – without charge.
Further details and email registration to participate in person… ​
---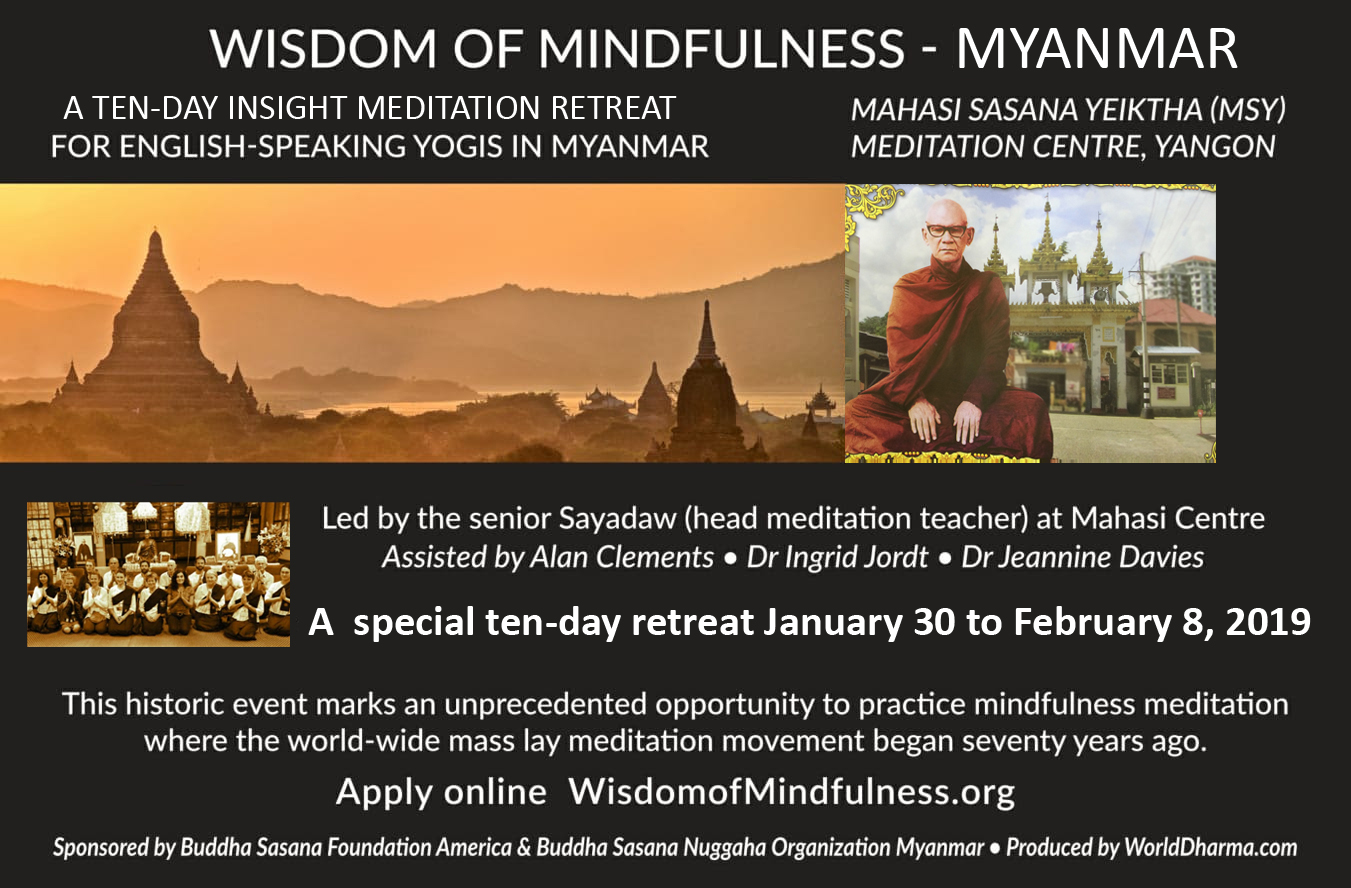 JANUARY 30 to FEBRUARY 8, 2019
Fourth Annual Wisdom of Mindfulness Retreat
Insight Meditation in Myanmar for English Speaking Yogis
Mahasi Sasana Yeiktha (MSY) Meditation Centre
16 Sasana Yeiktha Road, Bahan Yangon
This historic event marks an unprecedented opportunity for English speaking yogis to practice mindfulness meditation where the world-wide mass lay meditation movement began in 1949.
A special ten-day retreat Wednesday January 30 to Friday February 8, 2019
The retreat is available by online application (below) for 25 participants.
Led by the Head Sayadaw (Meditation Teacher) at the Mahasi Centre
Assisted by Alan Clements & Dr Ingrid Jordt & Dr Jeannine Davies
Daily dhamma talks in English by the Head Sayadaw (teacher)
Daily meditation interviews for yogis with the Head Sayadaw
Daily (optional) meditation-based Q & A & discussions with Alan Clements
Private rooms with washrooms
Vegetarian or traditional meals
Details and online retreat registration…
Find the 2019 retreat at Mahasi Centre Yangon on Facebook
---
SUNDAY JANUARY 27, 2019 from 8:30 am to 6:00pm
Also a Day-Long Wisdom of Mindfulness Meditation Retreat
Insight Meditation in Myanmar for English Speaking Yogis
For those living, working, serving or travelling in country
At the Mahasi Meditation Centre, Yangon, Myanmar
Available by application for the 200 participants
Details and registration
Find the January 27 event at Mahasi Centre on Facebook
---
ONGOING
A 9 WEEK WORLD DHARMA ECOURSE
Includes three personal skype sessions with Alan Clements. Merging World Dharma with the Wisdom of Mindfulness and the Liberating Art of Being True and Human.
Details and online retreat registration…
---
"As spiritual and political beings we are all activists at heart. No one is outside of society…It's about our freedom. That means everybody. We must see that nothing and no one is separate from this freedom. No one is an island in this world."Aung San Suu Kyi, excerpted from ``The Voice of Hope``
---