News & Schedule of Events for World Dharma and Alan Clements
---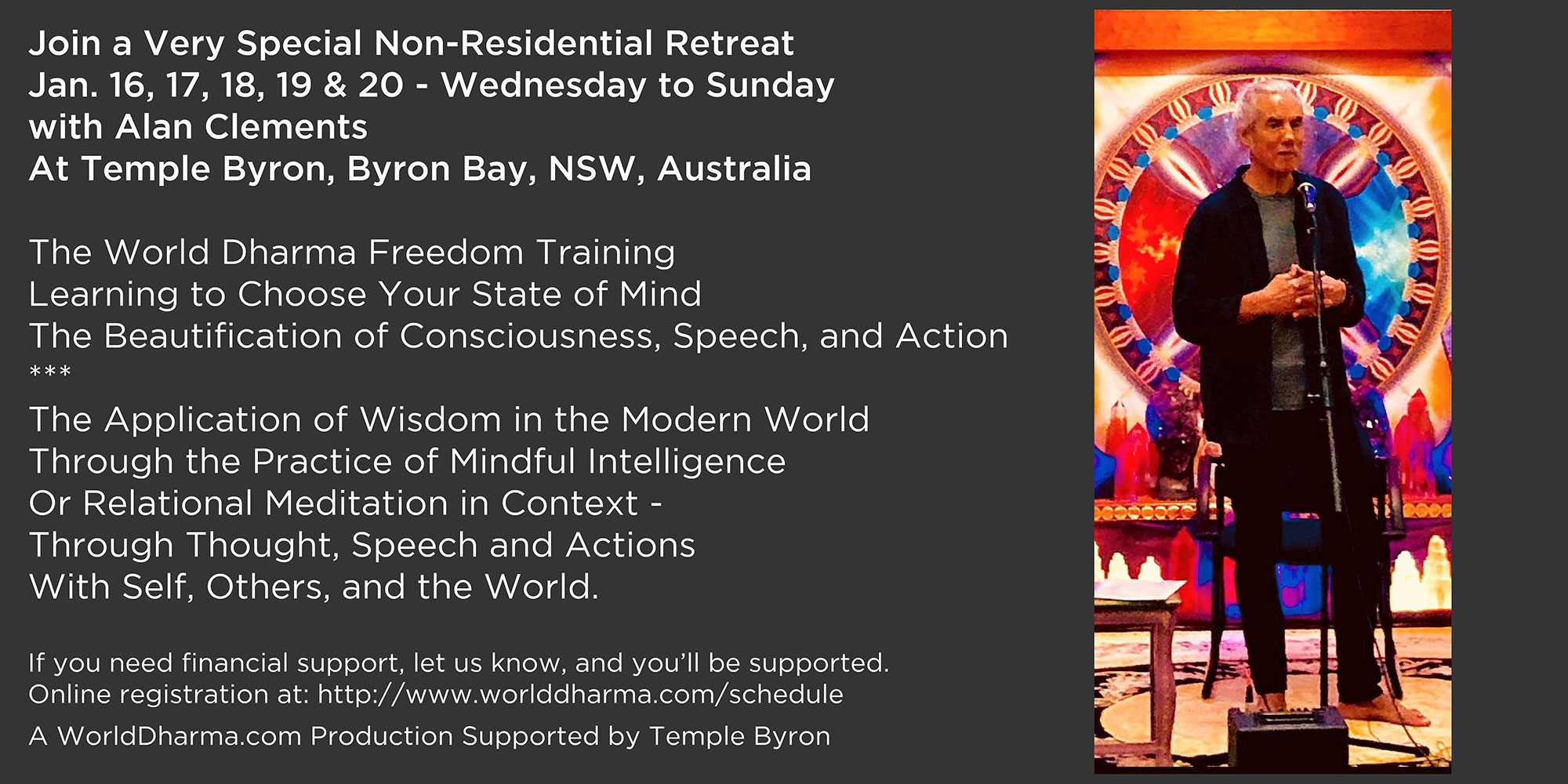 Join us for a Special 5 Day Non-Residential Retreat
Jan. 16, 17, 18, 19 & 20 – Wednesday to Sunday
with Alan Clements
At Temple Byron, Byron Bay, NSW, Australia
The World Dharma Embodied Freedom Training
Learning to Choose and or Let Go of Your State of Mind
Call it the Beautification of Consciousness, Speech, & Action
The New World Dharma is the
Application of Wisdom in the Modern World
Through the Practice of Mindful Intelligence
Also known as Relational Meditation in Context
– By Wisely Choosing Our Thoughts, Speech & Actions
With Self, Others, and the World (choosing freedom).
Online registration and multi-tiered pricing, click here.
Limited to the first 25 registrations. We want this to be intimate.
If you need financial support, let us know, and you'll be supported.
A World Dharma Production Generously Supported by Temple Byron on Facebook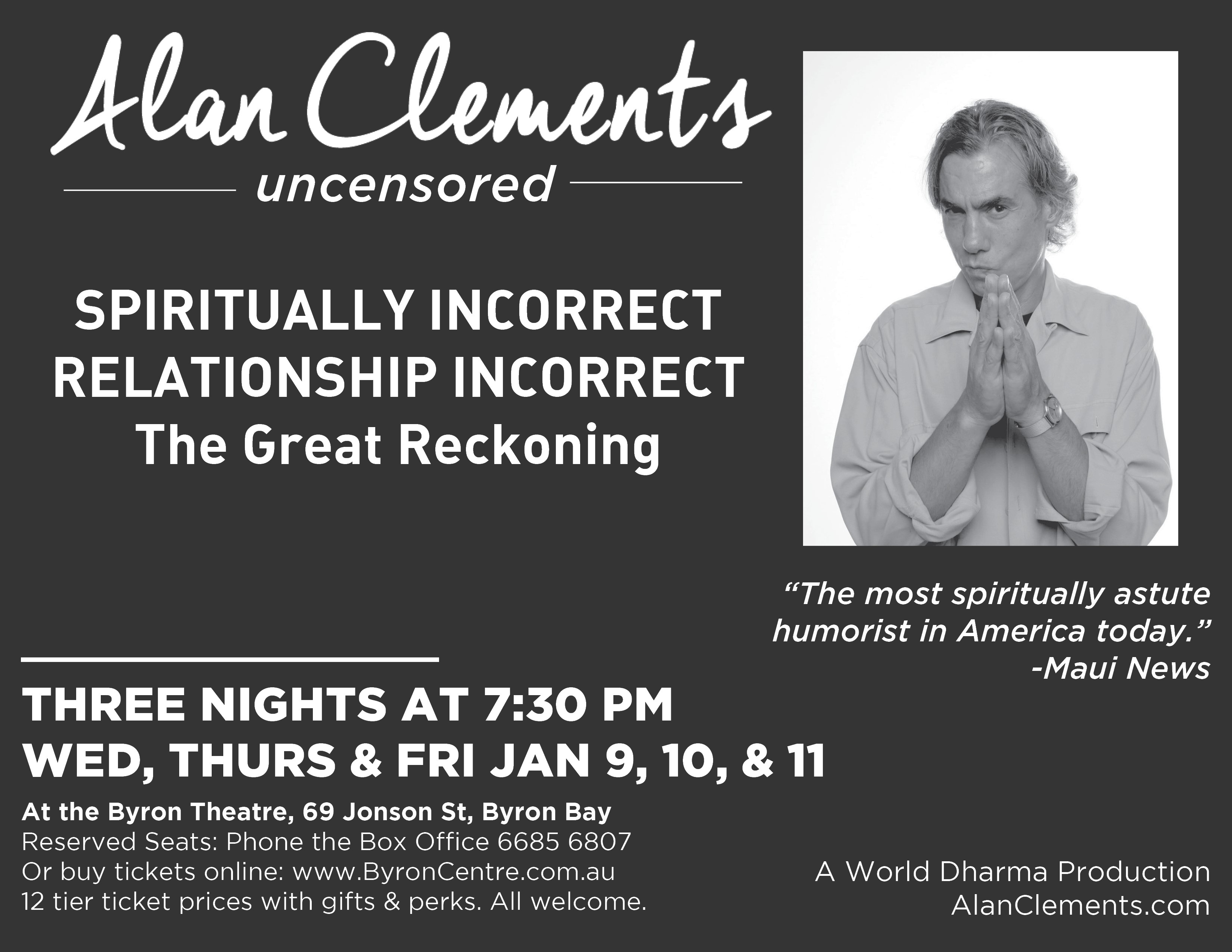 WEDNESDAY, THURSDAY & FRIDAY, JANUARY 9, 10 & 11, 2019
Alan Clements Uncensored
SPIRITUALLY INCORRECT meets
RELATIONSHIP INCORRECT
The Great Reckoning
this will be a night to remember
Some of you know that Alan has gone far beyond the spiritual in his show to include the topic everyone is yearning to understand – the longing for love, being unmet time and again, sex, mindful sex, erotic sex, mindless sex, fantasies, loss, grief, dishonesty, being misled, accountability, and the breathtaking epic beauty of true love and romance (even if it does not last because one or the other or both gets spooked and scapegoats the other) and how these human needs get fucked over by spiritual propaganda so often found within meditation, yoga, and mindfulness circles or cults, depending on where the money flows.
Alan Clements Uncensored Spiritually Incorrect Meets Relationship Incorrect – The Great Reckoning.
THREE NIGHTS starts at 7:30 PM – 9:00 PM
WED, THURS & FRI JAN 9, 10, & 11
Byron Theatre, 69 Jonson St
Reserved Seats: Phone the Box Office 6685 6807
Or buy tickets online on the Theatre's website
5 tier ticket prices with gifts & perks, starting as low as $10
TICKETS ON SALE NOW 
"The most spiritually astute humorist in America today." Maui News
Byron Theatre Shows on Facebook Wed, Thurs & Fri – Jan 9, 10 &11
THREE NIGHTS Alan Clements Uncensored from 7:30 pm to 9 pm

WORLD DHARMA PUBLIC FORUM BYRON BAY



A Special Series of Talks, Q & A and Open Group Discussions
– with Alan Clements – his talks are uncensored, spontaneous
and edgy. A human, raw heartfelt, reverential communion.
Mondays & Thursdays starting Thursday December 10
through Monday January 7, 2019 from 7 – 8:00 pm AET    

The WD Forum is also broadcast on Facebook Live 7 – 8:00 pm AET
and can be viewed from Alan Clements' Facebook page (click follow)
A physical location for the WD Forum is currently being secured and
will be announced soon. Until then, watch the talk on facebook live.
Previous World Dharma Forums are archived here.
Find the World Dharma Forum Byron on Facebook
---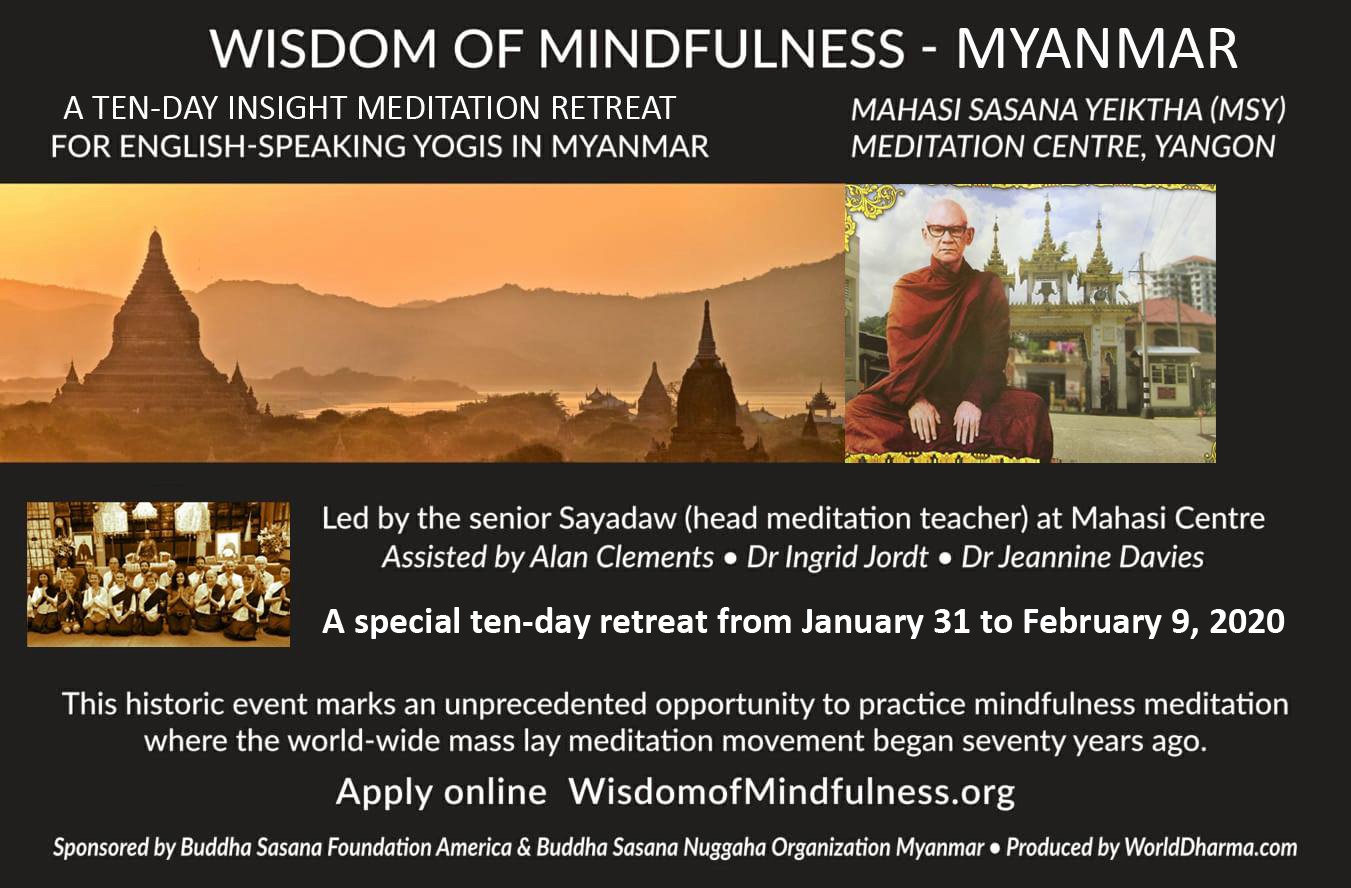 Fifth Annual Wisdom of Mindfulness Retreat

JANUARY 31 TO FEBRUARY 9, 2020

Insight Meditation in Myanmar for English Speaking Yogis
Mahasi Sasana Yeiktha (MSY) Meditation Centre
16 Sasana Yeiktha Road, Bahan Yangon
This historic event marks an unprecedented opportunity for English speaking yogis to practice mindfulness meditation where the world-wide mass lay meditation movement began in 1949.
The retreat is available by online application (below) for 25 participants.
Led by the Head Sayadaw (Meditation Teacher) at the Mahasi Centre
Assisted by Alan Clements & Dr Ingrid Jordt & Dr Jeannine Davies
Daily dhamma talks in English by the Head Sayadaw (teacher)
Daily meditation interviews for yogis with the Head Sayadaw
Daily (optional) meditation-based Q & A & discussions with Alan Clements
Private rooms with washrooms
Vegetarian or traditional meals
Details and online retreat registration…
---
SUNDAY JANUARY 26, 2020 from 8:30 am to 6:00pm
Also a Day-Long Wisdom of Mindfulness Meditation Retreat
Insight Meditation in Myanmar for English Speaking Yogis
For those living, working, serving or travelling in country
At the Mahasi Meditation Centre, Yangon, Myanmar
Available by application for the 200 participants
Details and online registration
---
ONGOING
A 9 WEEK WORLD DHARMA ECOURSE
Includes three personal skype sessions with Alan Clements. Merging World Dharma with the Wisdom of Mindfulness and the Liberating Art of Being True and Human.
Details and online retreat registration…
---
"As spiritual and political beings we are all activists at heart. No one is outside of society…It's about our freedom. That means everybody. We must see that nothing and no one is separate from this freedom. No one is an island in this world."
---