Burma's Voices of Freedom A Four Volume Set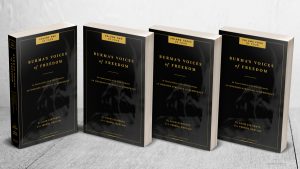 Conversations with Alan Clements
An Ongoing Struggle for Democracy
by Alan Clements & Fergus Harlow
Available in print & ebook on Amazon and online retailers worldwide
Please share this page on FB with friends and groups, icon top right
Please spread the word of these books through your social circles
Also, please ask bookstores to carry. Translations are also welcome.
Buy each volume separately below or any combination of all four.
Each volume approximately 500 pps, Table of contents at bottom.
A 2 minute overview of how you can support the project?
INGRAMS – OUR WHOLESALE DISTRIBUTOR WORLDWIDE  
Bookstores, Libraries, Retailers, Universities, Organizations
Invite authors on your podcast, radio or TV show, email us here.
Burma's Voices of Freedom (share on facebook)
Thank you for caring about freedom, democracy and human rights.
Offer a tax deductive donation to support promotion of this work
Click here for a monthly pledge on Patreon.
Or here for a one time contribution.
For the launch of "Burma's Voices of Freedom"