This is the official website for
Alan Clements
World Dharma and the Buddha Sasana Foundation
Click on the Patreon icon — pledging takes only a minute.
Every amount, from $1 a month, allows my work to thrive.
Thank you for supporting my art, life, and World Dharma.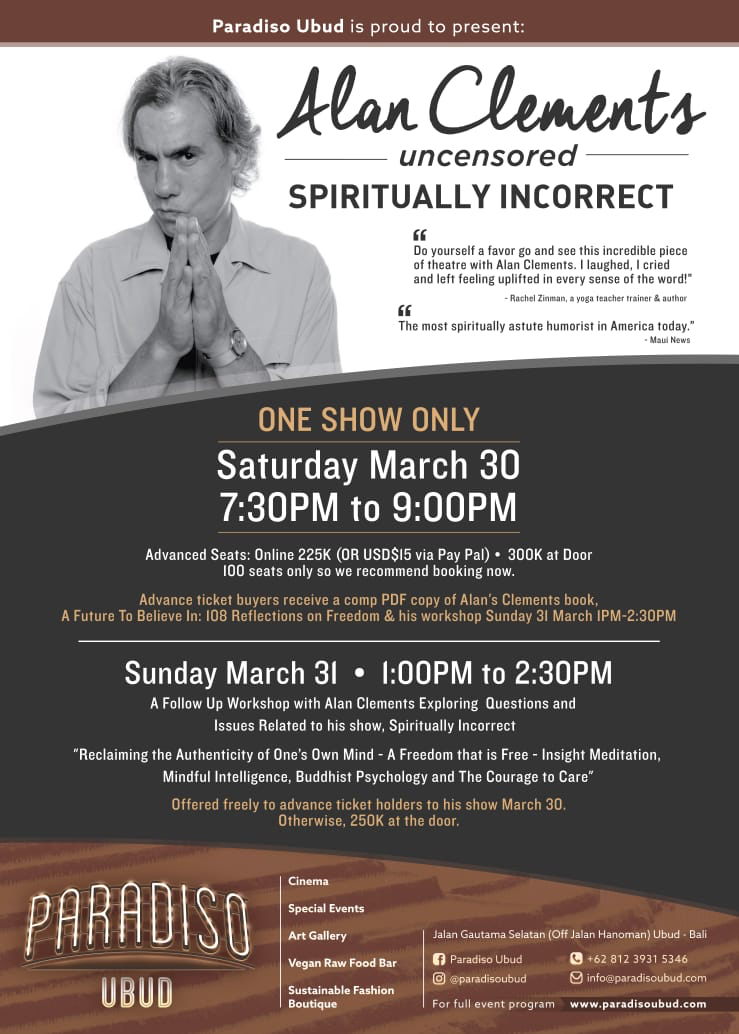 ONE SHOW ONLY – UBUD, BALI
SATURDAY MARCH 30th from 7:30 – 9:00 PM
PARADISO THEATRE Jalan Goutama Selatan
TICKETS ON SALE NOW
Advanced: 225 R or $15 usd by pay pal & 300 R at Door
100 seats only … so we recommend booking now.
Reserve TICS: email contact@worlddharma.com
(Subject: Bali show Mar 30) Email full name,
email address, and # of tickets you wish to buy
Same day confirmation.
Advance ticket buyers receive a comp PDF copy of
& his workshop Sunday 31st Mar 1-2:30 pm,
exploring the show's content.
OR book tickets via messenger from Alan's facebook
OR on Instagram DM us at alanclementsworlddharma
OR you can buy directly from the theater's box office
"Do yourself a favor go and see this incredible piece of
theatre with Alan Clements.I laughed, I cried and left
feeling uplifted in every sense of the word."
~ Rachel Zinman, Yoga Teacher Trainer & Author
---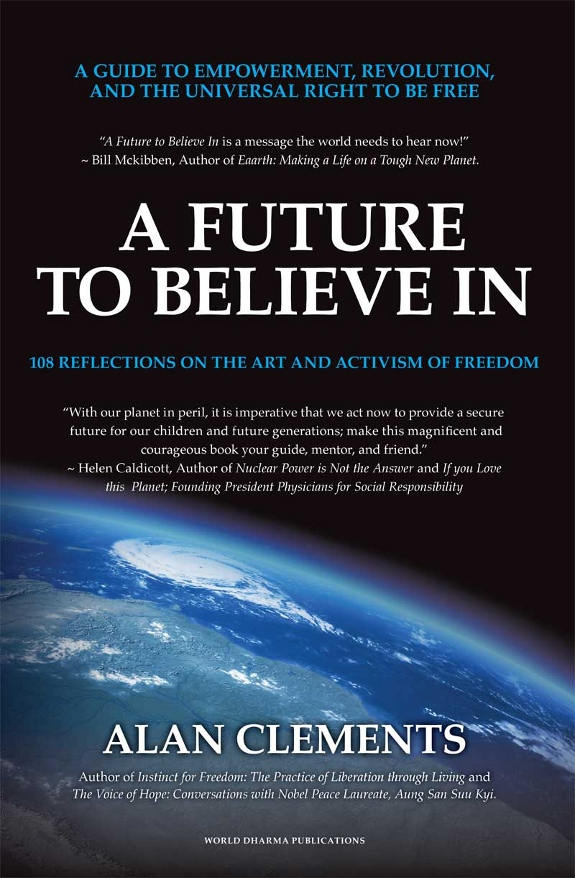 ---
A Future
to Believe In
After four years in creation, the founder of World Dharma, Alan Clements, a former Buddhist monk, human rights activist, and performing artist, presents a visionary new book – a 268 page treasury of insights, both personal and planetary. More about the book..